He suffered a serious Face wound in a car accident when he was an infant, but he believes that the ridicule he suffered growing up helped 'forge his character' !
He freely admits that growing up with such a prominent scar was difficult, but he feels that the experience made him the man he is today !
"You have to be mentally strong to withstand the ridicule of other children and the stares of adults."
Frank Ribéry was born in Boulogne-sur-Mer, Pas-de-Calais and raised in a low-income neighborhood on the fringes of the city.
When he was two years old, he and his family were involved in a car accident in his hometown, colliding with a truck!
Ribéry suffered serious facial injuries that resulted in more than one hundred stitches and left two long scars down the right side of his face.
Prior to joining Stade Brestois in 2003, he worked as a construction worker with his father, which Ribéry referred to as a "learning experience".
Ribéry's wife, Wahiba, is a French national of Algerian descent and the couple have two daughters and a son.
Ribéry is a convert to Islam and, following his conversion, adopted the name Bilal Yusuf Mohammed.
Finally in 2013, Ribéry won the Champions League and the Treble, with Bayern Munich in a "German" final against Borussia Dortmund.
In August 2013, he won the UEFA Best Player in Europe Award.
Frank Ribéry, aka Bilal Yusuf Mohammed. recently won the EUFA Super Cup with his German club Bayern Munich, after they drew with Chelsea 2–2, leading to a penalty shootout which they won 5–4.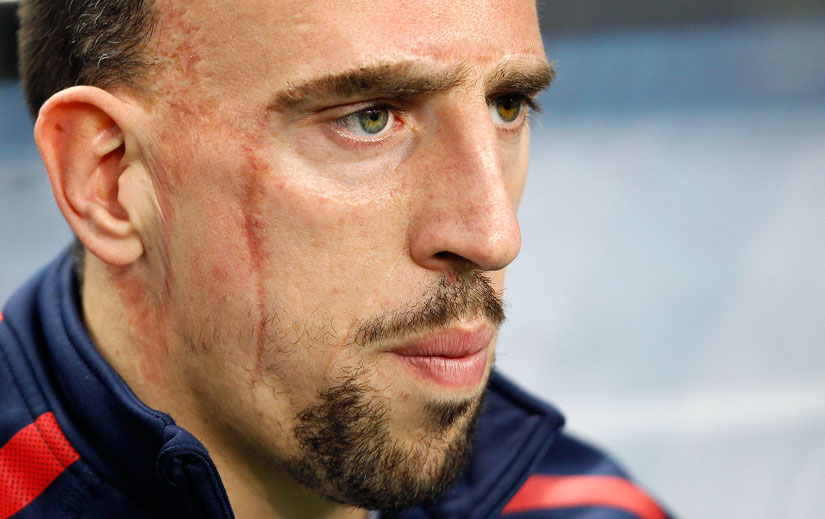 Quotes:

''He is the jewel in French football''.

French legend Zinedine Zidane.
S for Shiko